Updated April 8th 2016
Several months ago, we told you about updates concerning Google Shopping's Product Inventory. Now, there is news regarding international article codes (GTIN). Google Shopping trialled compulsory GTINs on 50 brands, and is now making it commmonplace policy: by 16 May 2016, all online retailers will have to have integrated these codes onto their product feeds.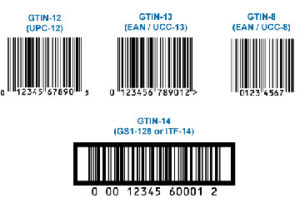 If you sell your products on Google Shopping, you probably will have received error messages in the 'Diagnostic' section of your Google Merchant Centre for your products that do not meet the new requirements. Conversely, if you have not received any warning, you will not be affected by this update.
This article aims to :
• Let you know which countries and which types of product will be affected by this new requirement
• Let you know the two main dates surrounding this update:
– 8 February 2016: Warnings began. If you sell on Google Shopping, you will have been receiving warnings from Google Shopping to update your feed
– 16 May 2016: Enforcement begins. You will start to see item-level disapprovals in your Diagnostics tab for products that do not meet the requirements, and those without a GTIN code will be removed from your feed.
Read on to learn more about this new requirement, and how it can benefit your Google Shopping campaign.
What is a GTIN code?
Positioned on the back of a product in the form of a barcode, the Global Trade Item Number (GTIN) is a unique product identifier, which can be used to look up product information in a database. The uniqueness of the product identifier helps identify products when dealing with cross-border trade.
Depending on the type of product and the country in which the product is sold, the code will be in one of the following formats:
• UPC (Universal Product Code): 12-digit code for North America
• EAN (European Article Number): 13-digit code for Europe
• JAN (Japanese Article Number): 8-digit or 13-digit code for Japan
• ISBN (International Standard Book Number): 10-digit or 13-digit code for books
• ITF – 14 (for multipacks/GTIN 14): 14-digit code
If your product does not have a GTIN code, there are several ways you can look for it: using a search engine such as Index UPC, or going straight to www.google.com/shopping to consulter the page of the given product so you can add it to your own product guide.
GTIN article codes mandatory from 16 May 2016
GTIN information will be mandatory for your product feeds from the 16 May 2016, for all products which already have an existing code. If you fail to provide this information, you risk your products being removed from your feed. Previously, some retailers filled in the GTIN field with 'identifier exist= false': be aware that from 16 May, this option will no longer be possible. You will still have to enter your brand product identifier, and we recommend you add your Manufacturer Part Number (MPN).
Which products and countries are affected?
All new branded products and retail products will be affected by the update. If you sell your products without GTIN codes, this update probably does not affect you, because there are certain exceptions: second-hand goods, hand-made products, custom products, one-off products, perishable products… If your products fall into these categories, you are allowed to put the value 'false' in your Google Shopping feed for the product identifier 'identifier exists', to show that there is no product code for this product.
In terms of countries, this new obligation will affect accounts in the following places:
Australia, Brazil, Czech Republic, France, Germany, Italy, Japan, the Netherlands, Spain, Switzerland, United Kingdom and the United States.
Please note that this compliance update is recommended for feeds with the following target audiences: Austria, Belgium, Canada, Denmark, India, Mexico, Noerway, Poland, Russia, Sweden and Turkey.
If your products do not fulfil the requirements stated below, please refer to the rules, which you can find on Google's support page.
How will this update benefit your Google Shopping campaigns?
This update will help Google identify products more easily so that they can sort them into the relevant category, which will improve the visibility of your Shopping adverts, and thus help boost your sales. This GTIN code will let Google compare the prices between merchants more easily, which will thus prevent duplications.
According to Google, adding this unique code to your feed will increase your Google Shopping advert impressions by 40%, and on average, will lead to a 20% increase in conversion rate.
What's more, the compulsory integration of GTIN codes also helps test new Google advert formats: multiple merchants will be able to compete against each other by featuring on one product advert (see below).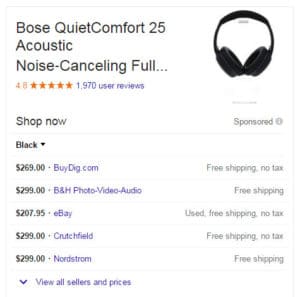 Lastly, GTIN codes will give you access to other distribution services sponsored by Google: network display, Youtube videos…
Update your GTIN codes with Lengow
If you have a Google Shopping feed with Lengow and are affected by this recent update, make sure you add this information into your feed, matching it with Google Shopping's GTIN feed.
If you sell products that do not have a GTIN code:
• Do some research within your company (logistics, merchandising), or get in contact with your manufacturer.
• If required, get in contact quickly with Google, or remove the products in question from your Google feed and replace them with the following automatic rule: 'If my GTIN field is empty, the field becomes 'false''. Finally, for products without a brand, make sure that the brand product identifier field is empty.
If you are not a Lengow client, ask for a free demo.
To find out more about Google Shopping,