In a previous article, we discussed how Google Local Inventory Ads (LIA) can benefit your Web-To-Store strategy. Today, we're taking a more in depth look at this system, which brings together the online and offline worlds, by exploring the advanced optimisation techniques available to further enhance the promotion of your in-store products.
For those who may not have a clear idea, Google Local Inventory Ads is a multi-channel system that gives retailers the opportunity to showcase both their online and in-store product catalogues. If you want to make the most of this ad format, find out how to link your LIA to your Shopping ads, and what adjustments you need to make in order to increase your conversion rate.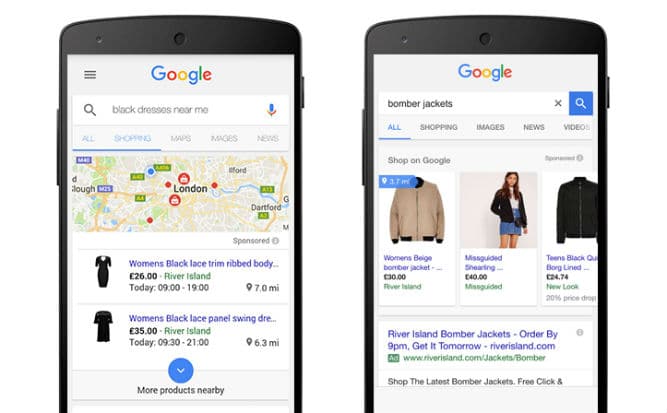 Linking your Shopping ads campaigns with your LIA
When it comes to Local Inventory Ads, your campaign visibility should be your greatest concern. There are a number of details that you need to consider if you want to boost your ad visibility. Activating your location extensions is incredibly important, as this shows people your address, a map to your location or the distance to your business. Furthermore, make sure to configure location targeting to help focus your advertising in certain areas (specific geographic areas, target radius…) and finally use store visit conversions to keep track of how your ad clicks influence store visits.
Once you have enabled these features, you can optimise a Shopping campaign to run your Local Inventory Ads by logging into an active Shopping campaign in your Adwords account. You then need to click the "Settings" tab and select the name of the campaign you wish to use for Local Inventory Ads. Then navigate to "Settings > Shopping Settings (Advanced)", check the "Enable Local Inventory Ads" box and click "Save". For more information: click here. Once you have completed these steps, Google will showcase the ad formats that are best suited to the consumer's buying behaviour: search behaviour, geolocation, type of device used, product availability…
Example: A consumer searches for an item on a computer. If the item is available both online and in-store, the search engine will display a multi-channel ad. This gives the consumer the choice of either making their purchase online or finding the location of the nearest physical store and making an immediate in-store purchase.
Once your Local Inventory Ads are active, your campaign budget and bids will automatically be merged. However, you must make sure that your reports are set up separately in order to analyse the differences according to ad performance and devices used.
Note: you can set up a campaign that includes "all products". Make sure to give this a low priority and assign a low bid. This layout covers all in-store inventory and local searches.
How to optimise your local inventory ads
1/ Separate your ad budgets for better tracking
You should follow these steps if you would like to maintain different budgets for your Shopping and Local Inventory Ads: create a separate Shopping campaign and enable Local Inventory Ads, then add an inventory filter, "channel=store" to ensure that Google only displays Local Inventory Ads. By doing this, you gain more control over the bids and use the budget dedicated to LIA.
Example: you could increase the bids for Local Inventory Ads on mobile.  
2/ Enhance your Shopping ad visibility on mobile devices
Local Inventory Ads generally appear as a response to local searches. It is therefore important to cater your LIA to mobile users in order to capture their attention. For example, it would be a good idea to increase your mobile bids and lower your bids for other devices. You should also set a mobile bid adjustment (up to 900%) for your Shopping campaign. Finally make sure that your ads are optimised for use on mobile devices.
3/ Improve your ad location
To set up your location targeting, you must first select the geographical area where you want your ads to be showcased. Once you have completed this step, you need to apply a radius-based upward bid (e.g. 24 to 32km) and set the location of your physical store. If you want to identify your best performing stores (based on clicks and conversion rate), Google recommends that you use store IDs in Google Analytics reports.
4/ Adjust your campaigns on an hourly basis
Your ads must remain active so you can respond to mobile searches made at any time. You should consider increasing your ad bids based on your store opening hours and the peak traffic times, which you can identify from your reports. Don't forget to adjust your bids for special events (sales, Black Friday, Christmas, private sales, Mother's Day…) or even depending on the weather.
Google recommends using its Adwords bidding simulator to determine the estimated traffic based on the selected bid. You can then calculate how well your campaigns will perform in different scenarios.  Finally don't forget to use remarketing lists to target consumers who visited your physical stores without making a purchase.
To find out more about Google Local Inventory Ads, check out our guide.
Download our Local Inventory Ads guide !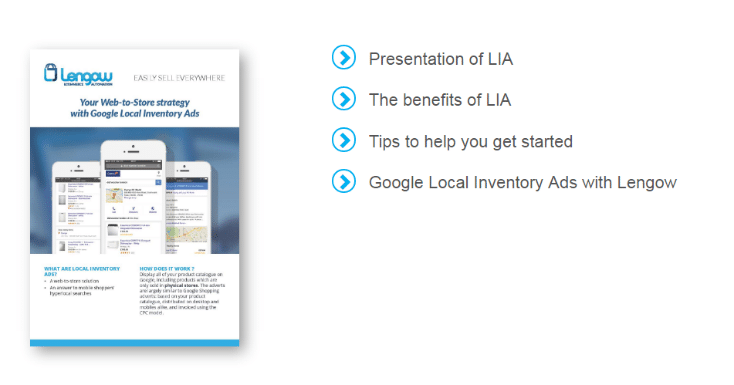 If you are not a Lengow client, and would like to distribute your products on Google Shopping, request a free demo! 
Source: Google