During the Christmas period, you have to make an even bigger effort to stand out from the competition, and advertise as much as possible to gain potential customers. So why not boost the visibility of your product catalogue by setting up shopping ads?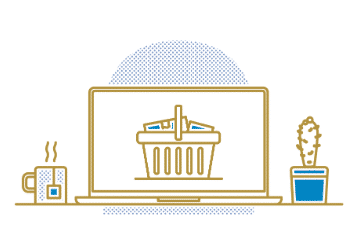 Nowadays, search engines and social networks are the first steps in the purchasing process. Online shoppers' first port of call is to go on Google, Facebook or Bing to find what they're looking for online. Here are three common ways to use these platforms to meet the current buying habits of consumers and boost your shopping ads.
Subdivide your product catalogue
Available on Google Shopping, Bing Shopping and Facebook Dynamic Ads, Custom Labels allow you to subdivide your product catalogue according to chosen values. You can therefore assign up to 5 custom labels within your feed for each of your products.


 Tip for Christmas
For the holiday season, you could create a "Christmas" label, where you can group all your top-selling products during the period, and set a higher price for these items. Other useful labels can be set up during the Christmas period, such as "promotional offers", "stock levels", and "special delivery".
See also: Google Shopping Infographic: 10 Ways Custom Labels Can Help Your Campaign 
Note: If you use the Lengow platform, you can use custom labels in your product feed. To do this, you need to set up automated rules. These allow you to separate your product catalogue into the values of your choice.
Locating your products
During the Christmas period, consumers are more and more demanding in terms of flexibility for their Christmas shopping. Ordering products online, or picking them up directly in-store, shoppers want to have a choice. If you already have both an offline and online presence, you can create ads to locate your products with Google Local Inventory Ads, Facebook Dynamic Ads for Retail, and Bing Local Ads.
Google Local Inventory Ads
Local Inventory Ads (that advertise your in-store products) respond to the growing Web-to-Store buying behaviour of consumers. This omnichannel shopping ad format allows retailers to display their products in Google search results, showing where they are available nearby.
See also: Develop your Web-to-Store Strategy with Google Local Inventory Ads 
Facebook Dynamic Ads for Retail
Similar to Google's Local Inventory Ads, Dynamic Ads for Retail (still being tested in the US) allow retailers to draw attention to their products that are available in nearby physical stores. This advertising format provides an opportunity for sellers to suggest products to their clients that are in nearby shops, based on their geographical location, with a map to show where the product is in relation to them.
See also: Dynamic Ads for Retail: The New In-Store Advertising Format for Facebook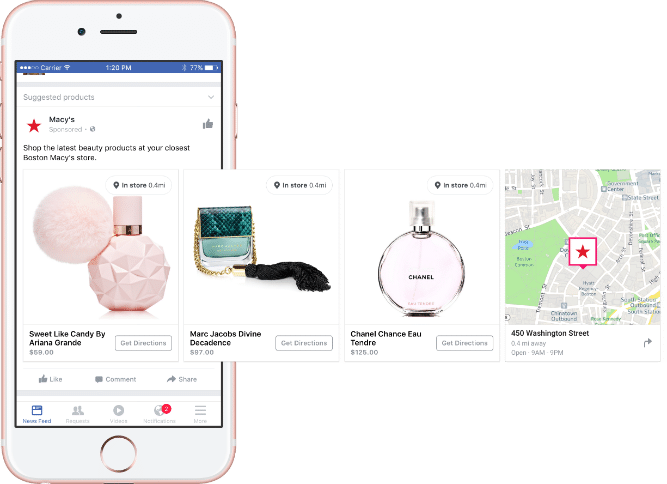 Bing haven't yet developed a Shopping feature, however, you can still draw attention to products in your physical store by adding the Bing Local Ads extension. These allow you to list all the essential information: your address, telephone number, and how to get there. For optimum targeting for your ad, opt for location targeting.
See also: Improve your Catalogue's Visibility with Bing Shopping Campaigns

Tip for Christmas
For Local Inventory Ads and Dynamic Ads for Retail, it's important to update your product catalogue regularly, especially during Christmas, when you'll find items going out of stock a lot faster.
Note: If you already use the Lengow platform, you can set up automatic rules to exclude certain things from your catalogue, for example, products with less than 5 items left in stock, to avoid showing products that are unavailable.
See also: 5 Tips for Boosting Your Sales with Google AdWords
Mobile optimisation
According to a study by TradeDoubler, 40% of online purchases involve more than one device: the buying process isn't always limited to one. Even though desktop and tablet generate the most online sales, mobile is growing in consumers' omnichannel buying process. For this, Google, Bing, and Facebook have adapted their Shopping ads to mobile devices to reach a new type of customer that's always on the move.

 Tip for Christmas
Your landing page needs to be optimised for mobile for the best shopping experience possible. This goes hand in hand with the speed of your site – if it takes longer than 2 seconds to load, you can risk losing traffic. For your CTAs, make sure the "add to basket" button and the price is visible above the fold on mobiles. And lastly, offer both automatic data entry forms and automatic login via Social Connect to optimise the sign up process.
If you'd like to sell your product catalogue on these three platforms, it's worth noting that you can easily duplicate your feed from one channel to another, to increase visibility for your products. With cost-per-click payment, Google Shopping, Bing Shopping, and Facebook can additionally be used as part of your acquisition strategy.
Are you a Lengow client who wants to sell on Google, Bing, and/or Facebook? Get in touch in the Help Centre. 
Not a client yet? Ask for a free demo!