A/B Testing is a marketing technique designed to optimise the performance of your e-commerce activity. Learn how to perform A/B tests with Custom Labels within the Lengow platform, for example, for testing the structure of your product labels on Google Shopping.
Used by a growing number of e-commerce companies, A/B testing gives you the opportunity to perform tests by developing two different versions of the same message and then determining the best version. Depending on your objectives, A/B testing can be used in various ways: to improve the design and user experience of your online shop, to optimise your e-mail marketing campaigns and increase your opening rate, or to improve your shopping campaigns and increase your conversion rate.
Here's how to perform A/B tests on your Google Shopping campaigns with Custom Labels (via Lengow).
First, let's take the example of an A/B test on the product name of a Nespresso coffee machine.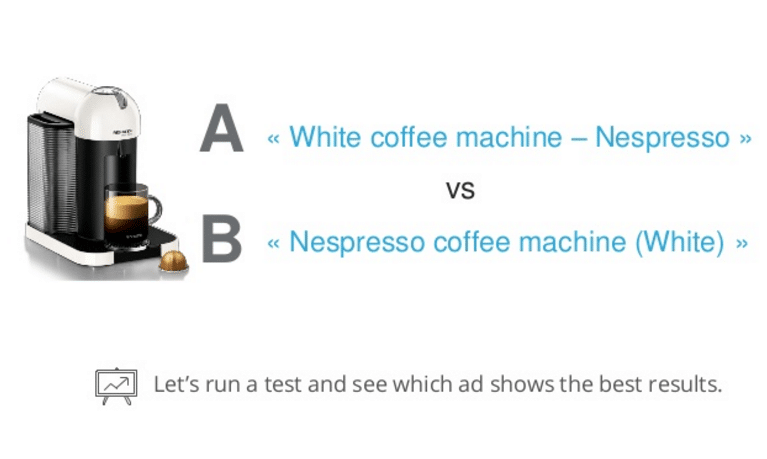 Subdivide your products with Custom Labels
Custom Labels allow you to subdivide your product catalogue by adding the labels of your choice: season, price range, promotions, stock level, special delivery, etc. This feature allows you to effectively manage your bids.

Unknown to some retailers, Custom Labels can also be used as part of A/B Testing campaigns. This feature gives you the ability to create a custom label for A/B testing on some of your products. If they are successful, then you can apply the best result to your entire catalogue.
Conduct an A/B Test with Custom Labels
To set up A/B tests with custom labels, there are a few steps you need to follow:
Step 1.) Select the products you want to A/B test
First, you must select the products you want to A/B test by creating the following test groups:
Products (manually selected)
Categories of products
Customised product groups
Step 2.) Define a custom label in the Lengow platform
Once the products have been selected, go to the Lengow platform to create your test groups. Then, apply a custom label to identify them.
In the example below, the label "test" was applied in the "custom_label_0".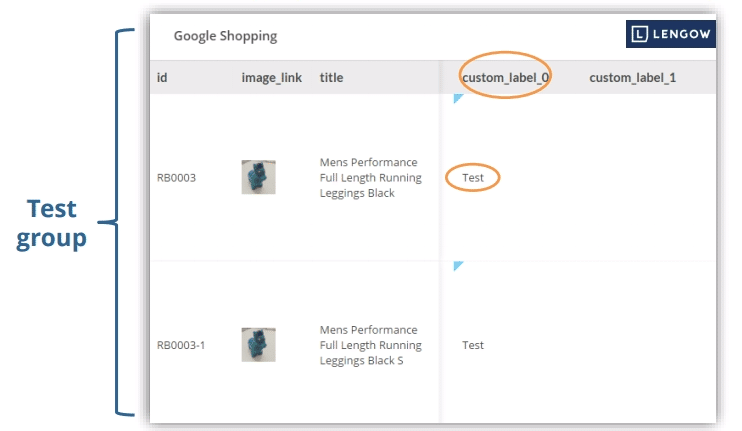 Step 3.) Use Lengow's automated rules to conduct your A/B test
After determining your test group, access the automated rules within Lengow to perform your A/B test.
Automated rules will allow you to perform different A/B tests by changing the content of the group. You will be able to change the order, the format, and add product attributes, or test different images to increase the click-through rate of your shopping ads.
To go back to our example with the Nespresso coffee machine: you want to carry out an A/B test on the title field of your products in the order TITLE/BRAND/COLOUR. To perform your test, you must implement two automated rules.
Automated rule A: Test your title with the product attributes in the following order: Product name + brand + colour.
If "custom_label_0" is "test", then the title attribute will be placed in the first position.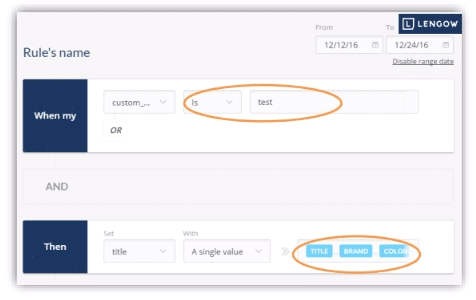 Automated rule B: Test your title with the same attributes but in a different order: Brand + colour + product name.
If "custom_label_0" is not "test", then the title attribute will be placed in third position.
Step 4: Analyse the performance of your A/B test via Google Adwords
Once you've launched your A/B testing campaign, you'll be able to measure your campaign's performance in the "Dimensions" tab of the Google AdWords platform.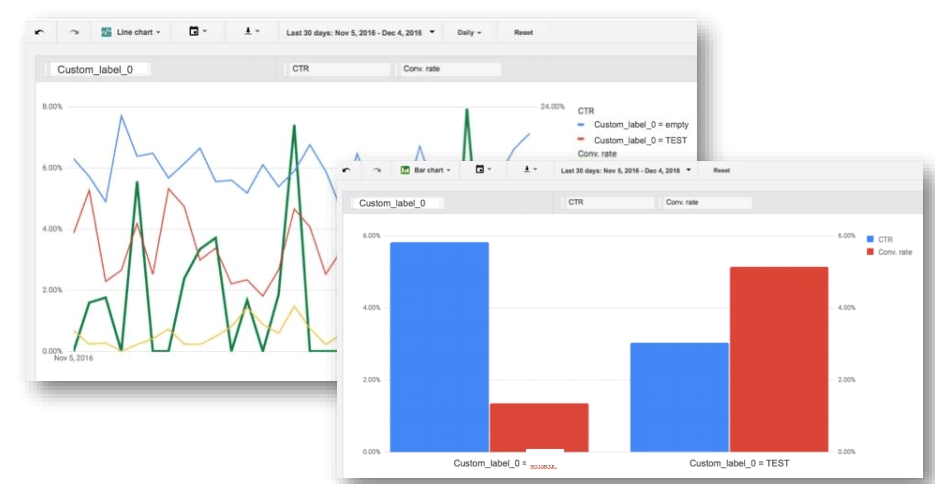 With the example of the Nespresso machine, this analysis will lead us to the following results: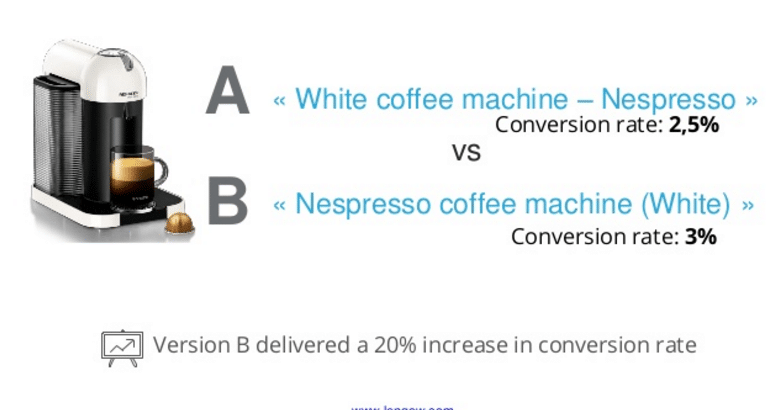 To find out more about A/B testing with Custom Labels and Google Shopping, take a look at our presentation:
Custom Labels can also be used in many different ways to help your advertising campaigns. For more info, check out our infographic:
Google Shopping Infographic: 10 Ways Custom Labels can Help your Campaign